Jurassic World: Dominion Dominates Fandom Wikis - The Loop
Play Sound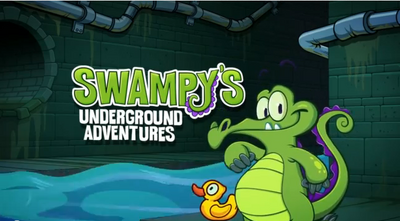 ---
Where's My Water?: Swampy's Underground Adventures (previously known as Where's My Water? The Show and Where's My Water? The Adventures of Swampy) is a webshow that aired on Disney's kid-aimed YouTube channel, "disneysshows". Teasers were released in August and September, and the show officially premiered on October 18, 2012. A new episode was released every Friday, excluding the first episode which aired on a Thursday. On January 18, 2013, the series concluded with the final episode, Ducky. Episodes of the show have also occasionally aired on Disney Channel.
Main Characters
Main article: Characters/Swampy's Underground Adventures
In addition, Justin T. Bowler also provided the voices of the other male alligators like Karl, Pushy and Shovey in the show.
Episodes
No. of Episodes
Title Name
Release Air Date
Episode 1
Meet Swampy
October 18, 2012
Swampy finds his shower to be blocked by a fire extinguisher.
Episode 2
Rising Tide
October 26, 2012
Swampy finds out giving Water to Algae is not for the best.
Episode 3
Change is Good
November 2, 2012
Cranky distracts Swampy from cleaning garbage at Harvey Breaks.
Episode 4
Troubled Waters
November 9, 2012
A pair of sunglasses fall into the sewer and land on Swampy's tail.
Episode 5
Under Pressure
November 16, 2012
Cranky is listening to some music with three other alligators.
Episode 6
Out to Dry
November 30, 2012
Swampy and four other alligators jump into the sewer mains only to discover the water has been dried out.
Episode 7
Sink or Swim
December 7, 2012
Swampy, Cranky and Karl become fat from eating too much food.
Episode 8
Stretched Thin
December 14, 2012
Swampy and Cranky use glue to climb walls and ceilings.
Episode 9
On Ice
December 21, 2012
Swampy, Ducky and the gang enjoy the winter ice.
Episode 10
Boiling Point
January 4, 2013
Swampy finds a mysterious balloon that seems to have alien associations...
Episode 11
Double Trouble
January 11, 2013
Swampy finds himself in an opposite world.
Episode 12
Ducky
January 18, 2013
Ducky tags along with some new friends much to Swampy's disappointment.
Gallery
Trivia
Disney Channel decided to fit the two minute shorts into their regular programming day, Disney Stores nationwide held a "Swampy Day" previewing episodes in-store, and even on the jumbo screen of the flagship Times Square store.
Almost all of the episodes in the series are named after chapters in the mobile game.

On Ice, Double Trouble and Ducky are the only episodes that aren't named after a chapter in the mobile game.
Surprisingly, there was no episode in the series named after Caution to the Wind, the eighth chapter in the game.