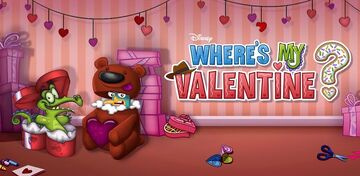 ---

Where's My Valentine? was a spin-off game of Where's My Water? and Where's My Perry? themed around Valentine's Day, in a similar way to Where's My Holiday? (which was themed around Christmas). Like Where's My Holiday?, the game includes 6 Swampy levels and 6 Perry levels, making a total of 12 levels.
Swampy's Levels
Perry's Levels
Trivia
This is the only game which was released as an update which replaced an existing game.
Unlike the other games, the music will not change if the player quits the level.
This game is 32-bit and cannot be played on IOS 11 or later.