[[File:{{{Alt}}}|55px|link=]]

Under Maintenance
Very much a stub. Feel free to add sections/change them/add more/do anything.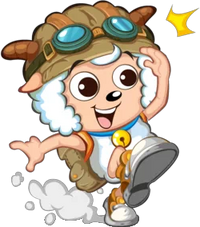 ---
Weslie is a Character from Where's My Water? Featuring XYY and Where's My XiYangYang?. He originates from the Chinese animated television series Pleasant Goat and Big Big Wolf.
Personality
Appearance
Weslie wears white shoes with a hat that has brown horns sticking out. He has brown eyes.
Gallery
Trivia
External links