For the fluids in Where's My Water? and Where's My Water? 2, see Poison Water and Purple Water.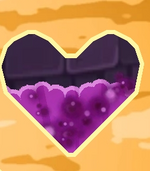 ---
Toxic Water is a Fluid in Where's My Water? Featuring XYY. It is the fourth fluid that is introduced to the player, first appearing in Purple Danger.
Summary
Basics

Toxic Water has a normal consistency in terms of movement. It behaves the same as Water. Toxic Water will fail all levels and kill both Bells and Lanterns.

Reactions with Fluids
Notable Reactions with Objects

Toxic Water clears Vines, but in a different way than Hot Oil and more like Poison Water from Where's My Water?.
Toxic Water makes an explosion upon collision with a Fire Switch.