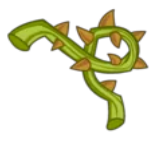 Thorns were added in the chapter: Stretched Thin
Thorns are the second plant-based obstacle in Where's My Water?, the first one being Algae. Unlike Algae, Thorns can't grow, or be killed by fluids.
Thorns only affect Balloons, popping them when one comes into contact, like icicles. Any Fluid can move through it.