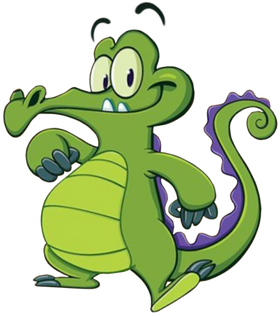 ---
"A lovable gator living in the sewers who enjoys taking showers and collecting artifacts"
---
Swampy is an anthropomorphic alligator and the main protagonist of Where's My Water?: Swampy's Underground Adventures.
Personality
Swampy is the youngest alligator of the Sewer, he looks out for all the alligators and tends to hang out with his enemy Cranky and Allie the most, but also often with Karl and the duo Pushy and Shovey. Swampy sometimes wears swimming gear before getting into the water [1]. Swampy is arguably one of the most curious alligators in the Sewer, often getting himself into trouble. Swampy loves his adventure companion, Ducky. Swampy and Cranky are still enemies, they both take the lead at times and sometimes show care for each other.
Appearance
Swampy's appearance is a mix of both his original and sequel counterparts. Swampy takes on the appearance of an anthropomorphic short green alligator that walks on two legs and he is the smallest alligator in the sewer, only slightly shorter than his girlfriend Allie. His eyes have blue irises, and he has three teeth poking out of his mouth; two on the left side, one on the right. He has a long curvy tail with purple rounded scales running down it and his back.
Gallery
Trivia
Just like Allie, whenever Swampy faces the camera, his head is not as triangular compared to Cranky and has a much friendlier look.
Swampy is shown in 3 different forms, only 2 of which are common: his default look and facing the camera/viewer. The 3rd is when he looks away from the camera.
Although he has three teeth poking out of his mouth; two on the left side, one on the right. On some occasions, it's vise versa; one on the left side, two on the right and sometimes shown with one or two teeth on both sides
Refrences