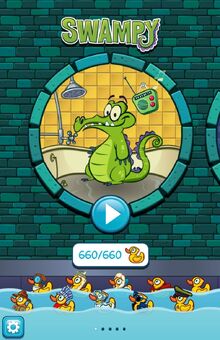 ---
Swampy's Story is the first story in Where's My Water?. Swampy's Story is included in the App Payment, alongside the Lost Levels. In this story, the player must help Swampy with his broken shower. Swampy loves to be clean, unlike most of the other alligators, but Cranky and the other alligators have now sabotaged his shower and have broken Swampy's pipe system. Now the player must help Swampy by guiding the Water back to Swampy's bathtub by using all their puzzle-solving skills, and their finger! There are ten chapters in this story.
In Where's My Water? Free, the first 5 levels of the first and third chapters as well as the second to sixth levels of the second chapter are available to play.
Chapters
Gallery
Trivia
After completing a level, a curtain closes (Covering the screen) and a silhouette of Swampy singing can be seen behind it. The player can tap on the curtain to move it from left to right.
Prior to an unknown update in 2013, Swampy would cry if you failed a level. This was replaced with him moping.
The fanfare that plays when you finish a level changes depending on the amount of Ducks the player collected.
Other Characters except for Cranky who appears at the bottom of long levels only appear in Cutscenes.
There is a total of six level songs (although two have been removed) in Swampy's Story. These play in a successive order and change when the player either finishes a level or goes back to the menu. Swampy's Story has the most level songs, as Cranky's has four (although one has been removed), the Mystery Duck's has three and Allie's only has two.
Like in the Level Select page, the walls are colored in the following order: Yellow, Violet, Green, Pink.