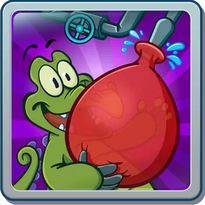 For the episode, see Stretched Thin (episode)
Stretched Thin is the 7th chapter of Swampy's Story.
To pop or not to pop? That is the question you will telling your self over and over through out these brain racking levels. Balloons have now stepped into your game but not without something to harm it! To tri-duck these levels you must bounce and float your way to your goal while using balloons to get the job done right. While avoiding those balloon killing thorns of course! The previous chapter is Boiling Point and the next is Caution to the Wind.
You are introduced to:
- Balloons (Water, Steam and Poison Water)
-
Thorns
Levels
7-1: Drop and Pop
7-2: Burst Your Bubble
7-3: Geyser
7-4: Balloon Bridge
7-5: Jagged Edge
7-6: Down the Hatch
7-7: Trust Fall
7-8: Waterbed
7-9: Up and Over
7-10: Mirror Image
7-11: Juicer
7-12: Hot Air Balloon
7-13: Bankshot
7-14: Pipe Organ
7-15: Balloon Journey
7-16: Be Careful Burning Bridges
7-17: Might as Well Jump
7-18: Booby Trap Staircase
7-19: Easily Swayed
7-20: Balloon Gauntlet