Jurassic World: Dominion Dominates Fandom Wikis - The Loop
Play Sound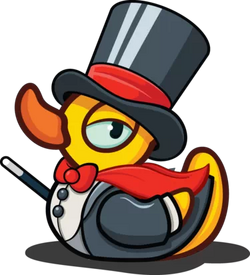 ---
The Mystery Duck is the Host Character of the Mystery Duck Story.
He was first introduced in Version 1.7.0, along with the "Out to Dry" Chapter and the game Where's My Perry? which introduced Mud.
Commercial Transcript
(The logo says, "The Mystery Duck Theater.")
(Mystery Duck hops and teaches magic tricks.)
(Swampy walks and goes left and right. The Mystery Duck hops)
(Mystery Duck into a live white duck.)
Announcer: Introducing the MYSTERY DUCK STORY! With over 100 levels available now and 100 more on the way, the Mystery Duck brings a completely new challenge to Where's My Water. The levels may look familiar, but in the Mystery Duck Story you have to collect all new types of ducks. But you can buy some episodes you can perform.
(Bath Curtain closed and the logo and the Mystery Duck and the Mystery Duck logo and the words says, "Performing now on iPhone, iPad, iPod touch and Android Devices.)
Announcer: Download Where's My Water where ever you get mobile apps, and expands you experience with the in-app purchase, Mystery Duck.
Gallery
Trivia
One of his tricks in the trailer is turning himself into a real-life duck, which could mean he's totally aware about the fact he's in a game.
He's able to wave his wand even though he never moves his wings (Though he could just be using levitation to do this).
He is the only duck that serves as a major character.
He is also the only duck to star in his/her own story (Not counting the Pirate Duck, who only appears in the "Lost levels" area).
It would appear he is the most intelligent duck in the game, as he's able to behave like (if not more than just) a normal character the game.
Fans often call the character "HouDucky", After the famous magician Harry Houdini.
The song can be also be heard in the cutscene of "Out to Dry".