Removed Content
Levels of the Week is no longer in the game.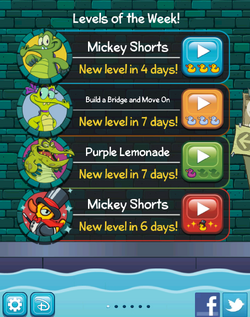 ---
Levels of the Week was a feature in Where's My Water? that was added in with the release of version 1.10 on November 14, 2012. With this feature, a new level each of Swampy's Story, Cranky's Story, Mystery Duck, and starting in May 2013, Allie's Story, is released on a specific day and is available to play for a week, until it expires for a new level to come into play and cannot be played again; however, a new chapter was added in The Lost Levels called Weekly Rewind in version 1.12, where a selection of the Swampy levels can be played with no expiration date; currently however, there is no way to play the other Levels of the Week.
In addition to new levels, some already-existing levels from other chapters have had a repeated release as part of the program, in the fourth and last row of the page where the Levels of the Week can be accessed; however, this was phased out with the addition of Allie's Story to the program.
Levels of the Week ceased to function following the release of Where's My Water? 2 on September 12, 2013, and the page was removed in a subsequent update to the game. Despite this, the Levels of the Week still remain in the game files.
Expired Levels
Levels with * next to them are repeated-release levels from other chapters.
Levels with ** next to them are playable in Weekly Rewind.
Swampy
All original levels up to Pu'u Kilo except for Lucky New Year, The Happiest Level on Earth, and Paradise Found are playable in the Weekly Rewind, as of version 1.12.
Cranky
Mystery Duck
Allie