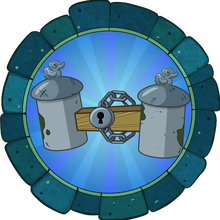 ---
Gates are gameplay mechanics in Where's My Water? 2.
Summary
Gates restrict access to a new Location or an area within one.
There are two types of gates:

"Duck Gates" are unlocked when you collect a certain amount of Ducks in game. They appear in locations.
"Key Gates" block off locations, except the Soap Factory. Three Keys are required to unlock these Gates.
List of Gates
Rows highlighted in blue denote the gate is unlocked with Keys.
| Gate | Requirements | Contains levels |
| --- | --- | --- |
| Sewer | N/A | 1-5 |
| Sewer Gate 1 | 18 Ducks | 6-10 |
| Sewer Gate 2 | 40 Ducks | 10-15 |
| Soap Factory | 85 Ducks | 16-20 |
| Soap Factory Gate 1 | 115 Ducks | 21-25 |
| Soap Factory Gate 2 | 165 Ducks | 26-30 |
| Beach | 3 Keys | 31-35 |
| Beach Gate 1 | 250 Ducks | 36-40 |
| Beach Gate 2 | 300 Ducks | 41-45 |
| Beach Gate 3 | 345 Ducks | 46-50 |
| Bayou | 3 Keys | 51-55 |
| Bayou Gate 1 | 445 Ducks | 56-60 |
| Bayou Gate 2 | 500 Ducks | 61-65 |
| Bayou Gate 3 | 550 Ducks | 66-70 |
| Bayou Gate 4 | 600 Ducks | 71-75 |
| Woods | 3 Keys | 76-80 |
| Woods Gate 1 | 693 Ducks | 81-85 |
| Woods Gate 2 | 738 Ducks | 86-90 |
| Woods Gate 3 | 786 Ducks | 91-95 |
| Pirate Cove | 3 Keys | 96-100 |
| Pirate Cove Gate 1 | 882 Ducks | 101-105 |
| Pirate Cove Gate 2 | 964 Ducks | 106-110 |
| Pirate Cove Gate 3 | 992 Ducks | 111-115 |
| Party | 3 Keys | 116-120 |
| Party Gate 1 | 1063 Ducks | 121-125 |
| Party Gate 2 | 1109 Ducks | 126-130 |
| Party Gate 3 | 1154 Ducks | 131-135 |