A collectible is a item that can be found in levels of Swampy's Story. They can usually be found hidden behind dirt and can be uncovered by removing the dirt. When a player finds a collectible, it is stored on the collection screen, where the player can read about the collectible. Collectibles can also be used to unlock bonus levels. When a player fills up a row on the collection screen by collecting the three corresponding collectibles, a bonus level is unlocked.
List of collectibles
As of
Out to Dry
, there are currently 60 collectibles in the game.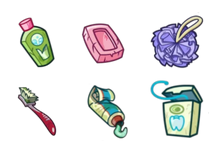 Meet Swampy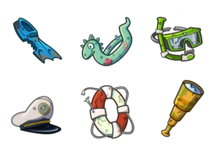 Troubled Waters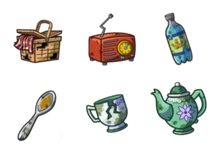 Under Pressure
Sink or Swim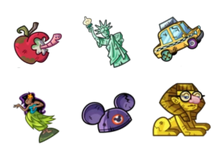 Change is Good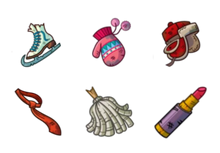 Boiling Point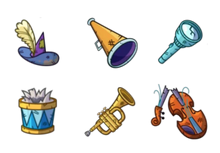 Stretched Thin
Caution to the Wind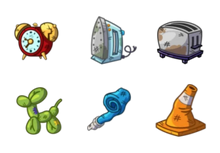 Rising Tide
Lazy Music Box - Can be found in level 9-2, Mix it UP! "Swampy loves the ringing song his music box plays, but why does it only work twice a day?"
Magnet Carrying Case - Can be found in level 9-4, One Shot Wonder. "With this handy holder, Swampy can finally display his extensive magnet collection!"
Bread Launcher - Can be found in level 9-9, Stop and Drop. "With this mechanical contraption, Swampy is sure to have the upper hand at the next sewer food fight!"
Domino the Fragile Dog - Can be found in level 9-11, Rainmaker. "Swampy loves to pet Domino, but he makes sure to not pet him too hard - he doesn't want a repeat of what happened to Giraldo the Fragile Giraffe!"
Party Horn - Can be found in level 9-16, Steam Splitter. "If a party happens, but no one sounds the party horn, did the party really happen?"
Day of Cake Hat - Can be found in level 9-20, Full of Hot Air. "Once a year, Swampy gets to wear this hat, which entitles him to as much cake as he can eat!"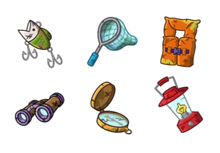 Out to Dry
Community content is available under
CC-BY-SA
unless otherwise noted.