A collectible is a item that can be found in levels of Swampy's Story. They can usually be found hidden behind dirt and can be uncovered by removing the dirt. When a player finds a collectible, it is stored on the collection screen, where the player can read about the collectible. Collectibles can also be used to unlock bonus levels. When a player fills up a row on the collection screen by collecting the three corresponding collectibles, a bonus level is unlocked.
List of collectibles
As of
Out to Dry
, there are currently 60 collectibles in the game.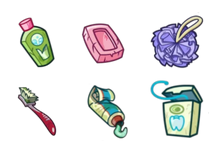 Meet Swampy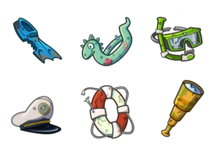 Troubled Waters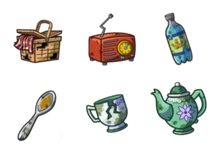 Under Pressure
Sink or Swim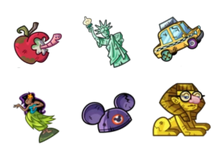 Change is Good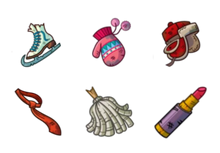 Boiling Point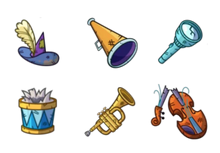 Stretched Thin
Caution to the Wind
Polka Dot Stamp - Can be found in level 8-3, Updraft. "After years of puzzling, Swampy has finally figured out how to make a polka dot pattern - a little paint and the bottom of this stamp!"
Soup Bowl - Can be found in level 8-5, On and Off. "The rumors were true - this bowl really is super! It even has a handle!"
Hand Flipper - Can be found in level 8-8, Wind Power. "Webbed feet are so last Spring - with this puppy you can have webbed hands!"
Rotisserie Rotators - Can be found in level 8-11, Freefallin'. "Neighborhood cookouts have gotten a whole lot easier with these skewers... even though you can only cook one piece at a time."
Figurine Head - Can be found in level 8-14, Ice Pit. "Swampy can't stop imagining what the rest of this action figure looks like. His favorite so far is a robot with horse heads for arms!"
Pandora's Box - Can be found in level 8-17, Headwind. "Swampy would be nervous about opening Pandora's Box, but he can't seem to find any way to open it."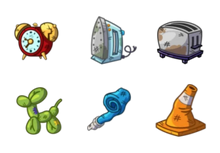 Rising Tide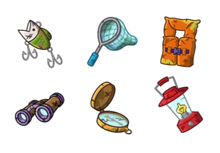 Out to Dry