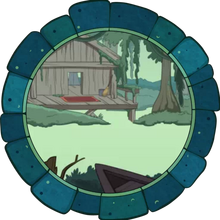 ---
The Bayou is the fourth location in Where's My Water? 2. The previous location is the Beach and the next is the Woods.
Additions
List of Levels
Gallery
Trivia
The Bayou is the location that contains the most amount of levels.
If the player taps Swampy, he will look around with a telescope.
If the player taps Allie, she will write on a piece of paper with a quill.
If the player taps Cranky he will hold a lantern and look around.