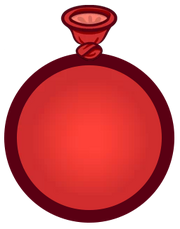 ---
---
Balloons are an object in Where's My Water? 2 first appearing in the Party.
Summary
Balloons can be summoned in at a small or large size when a level starts, or can be filled up to a larger size when attached to a pipe.
When Balloons hold their maximum capacity, they can hold more than enough of the required fluid to complete a level.
Balloons fall or float at varied speeds depending on their weight.
Balloons look different depending on their contents:
Balloons can activate Bombs and can be popped by Bombs.
Sounds
| Description | Sound |
| --- | --- |
| Balloon is filled with Water or Purple Water | |
| Balloon is filled with Steam | |
| Balloon is Popped | |
| Water or Purple Water is Released | |
| Steam is Released | |
Trivia
Unlike the original game, Mud Balloons do not appear due to the absence of Mud. Both features still exist in the game files, however.