For the Alligators that appear in the show Swampy's Underground Adventure, see Where's My Water?: Swampy's Underground Adventures/Cast.

Alligators, also known as Gators are the main characters in Where's My Water? and Where's My Water? 2.
Main characters
The main characters have a 'story' about themselves. Each story contains 4 or 10 chapters.
Swampy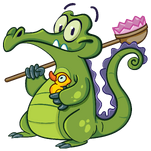 Main article: Swampy
This alligator is the main character of the games. He enjoys showers, having fun, and loves his rubber duck. Unfortunately, Cranky tampered with his plumbing...
Cranky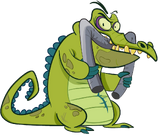 Main article: Cranky
Cranky is the Alpha male. He is fat, lazy and bossy. He hates Swampy for his human behavior, and dislikes him even more when Allie dumps him for Swampy. Cranky can never eat to much food but doesn't eat it when it is covered in Algae.
Allie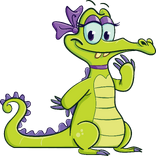 Main article: Allie
This alligator is the musical Alligator and has deep affections for Swampy. She has a steam powered piano, which unfortunately has broken pipes.
Other Characters
Other known characters appear in cutscenes.
Karl
Main article: Karl
This alligator appears to be very dumb, and has a goofy personality. He seems to have a similar appetite to Cranky, as he eats almost anything.
Pushy and Shovey
Main article: Pushy and Shovey
Pushy and Shovey are alligators who have a personal hatred for each other. Unknown who is Pushy and who's Shovey!
Supporting and Recurring characters
Mother gator
Aside from Allie, the only other female alligator seen in the games is an alligator wearing blue eye shadow who can be seen talking with Allie in the picture for Hunger Pains. She was born on April 21, 1987. She also appears in a cutscene in Where's My Water? 2 at the Soap Factory running the duck machine.
Community content is available under
CC-BY-SA
unless otherwise noted.