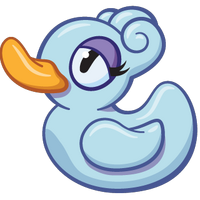 ---
---
Allie Ducks are the ducks used in all Allie levels in Where's My Water? 2.
Summary
Appearance
While full, Allie Ducks have a lavender colour with an orange beak, white eyes, and a medium purple eye shadow.
While empty, the duck is pink all over with white eyes.
Sounds
| Description | Sound |
| --- | --- |
| Allie Duck is Collected | |
| Allie Duck is Filled | |
| Allie Duck is Killed | |
Trivia
Allie Ducks are blue (when full), which represents serenity (calmness or peace), just like Allie herself.
Some elements of Allie can be seen visibly on the duck, such as the purple eyeshadow and the two eyelashes.